Gear for fishing Montana's Missouri River
This is Montana so be prepared for every imaginable type of weather. In the spring and fall be sure to have warm layers and gloves as it can snow. We do not mind because this brings the best fishing!
Apparel and Accessories


---Rain gear
---Layers (fleeces and sweaters)
---Sun gloves
---Sun Screen
---Bug spray is provided
---Hat and polarized sunglasses
---Waders and Boots
---Fishing vest

We recommend Simms fishing apparel.
Simmsfishing.com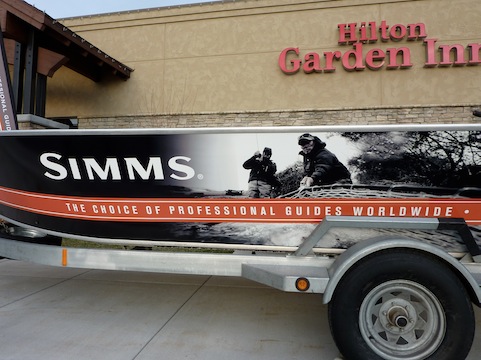 Pete Cardinal reels one in on the Simms Missouri River photo shoot.
Fishing Gear


--- 4-5 weight rods for nymphs and dries
---5-6 weight rods for hoppers
---6-7 weight rods for streamers

We prefer large arbor reels and floating lines for almost all situations.

Wading staffs if you need one. Cleated wader boots not needed. Felt soles are helpful.

You do not need to bring a landing net.

Rods and reels can be provided if needed.



F
T